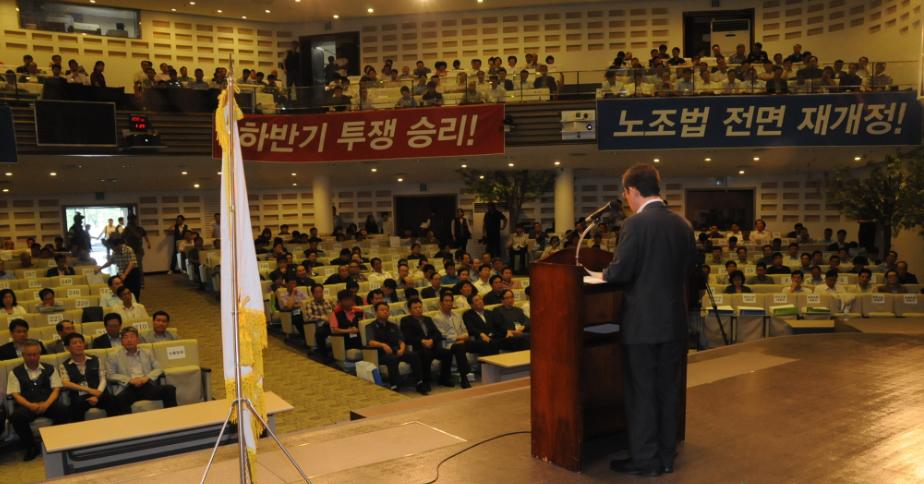 FKTU holds an Extraordinary National Congress 2012
- Reaffirm its All-out Struggle for Complete Revision of Trade Union Act(TULRAA) and Abolition of Discrimination against Precarious Workers -
The Federation of Korean Trade Unions (FKTU) held an extraordinary National Congress in Seoul on 27th July. The Congress adopted the resolution reaffirming its continuous all-out struggle for complete revision of the Trade Union and Labour Relations Adjustment Act(TULRAA), abolition of discrimination against non-regular workers and alleviation of social polarization. 414 delegates gathered also resolved to mobilize all capabilities against privatization and sales of key industrial enterprises such as Korea Aerospace Industries, Woori Financial Group etc, which has been unilaterally attempted by LEE Myungbak administration since the beginning of his term in office.
Also its policy on political empowerment by participating in the Democratic United Party was reconfirmed by the Congress.
At the end of the Congress, LEE Yongdeuk, the President of the FKTU, announced his resignation. In his farewell address, he appreciated supports and comradeship before delegates and also emphasized unity and harmonization of the FKTU in order to achieve the complete revision of TULRAA, abolish anti-labour polices under the current government and win the presidential election with a pro-labour candidate.
KIM Dongman, the standing Vice President of the FKTU, was appointed as the Acting President of the FKTU.